27 November 2007
One often hears that Chinese women are very "practical". One sometimes wonders if that is a codeword for "golddiggers".

Now there is some data on the interplay between love and money in hearts of young Chinese. According to the China Daily, a "growing number of the country's young adults" consider money to be a determining factor when looking for a partner.

"Nearly half the 8,932 respondents said that money and other financial packages are the most important preconditions for love."

A poor sap named Lu Yun tells the paper that his girlfriend recently dumped him over housing. "She made it very clear: An apartment works. No apartment, no-go," he told the paper. The guy is only 28 years old!

I think back to my 28-year-old self, chasing around mice with a frying pan in a shared tenement in New York's Chinatown. I wasn't exactly on the verge of plunking down a $200,000 down payment on a Soho loft. And, come to think of it, the girls weren't lining up at my door (which had no buzzer and required me to throw down a key in a sock from the fourth floor to let guests in.)

Yes, it's true, American women are hardly immune to the siren song of nice real estate and high-limit platinum cards. Sex and the City's Carrie Bradshaw was hung up on an emotionally unavailable real estate mogul, not a romantic but underemployed security guard from the Bronx who still lived with his mom.

But still, home ownership as a pre-condition for love at the age of 28 would surely rule out about 99% of young singles in New York or San Francisco. Little wonder many young Chinese complain that the pressures of life are mounting in contemporary Chinese society. (压力太大了!)

But the survey also reveals a romantic streak in young Chinese: "40 percent of those polled considered true love paramount in a relationship, while 40 percent still believed in love at first sight."

Just another in the endless confrontations between the two forces, love (or sex) and money, that seem to hold the tightest grip on human consciousness.

Meanwhile, for those who've managed to lock down a mate with all the right qualities, financial and otherwise, 2008 is shaping up to be a big year for marriages.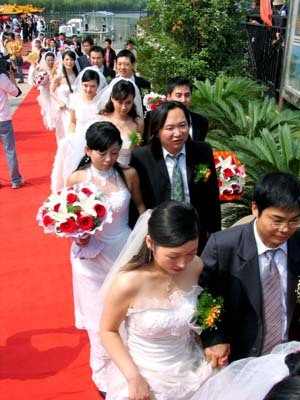 Again from China's finest (and only) national English daily: "In Shanghai alone, nearly 120,000 young couples have so for [sic] decided to marry next year, some 30 percent more than this year."

August 8, 2008, the day of the Olympic opening ceremony, is considered the most auspicious day to get married next year. Eight is a lucky number in China so the profusion of eights on 8/8/2008 will not be topped until 2088. Apparently 2008 is also a "metal year" in Chinese astrology, another auspicious touchstone for marriage in the Middle Kingdom.

Others are looking at the rise in weddings from a scientific perspective: "The wedding surge of 2008 is a chain reaction of the birth surge in the 1980s, because next year, about 280 million youngsters in China will have reached the age of getting married," said Shi Kangning of the Committee of Matchmaking Service Industries in China.

In any case, perhaps the confluence of so many forces, both cosmic and demographic, will make this Sufei's lucky year.


Luke @ 13:49 | .(5039) |